Rags restaurant & Bar have fallen victim to Covid-19's effects on local businesses. They have recently changed their website to show this statement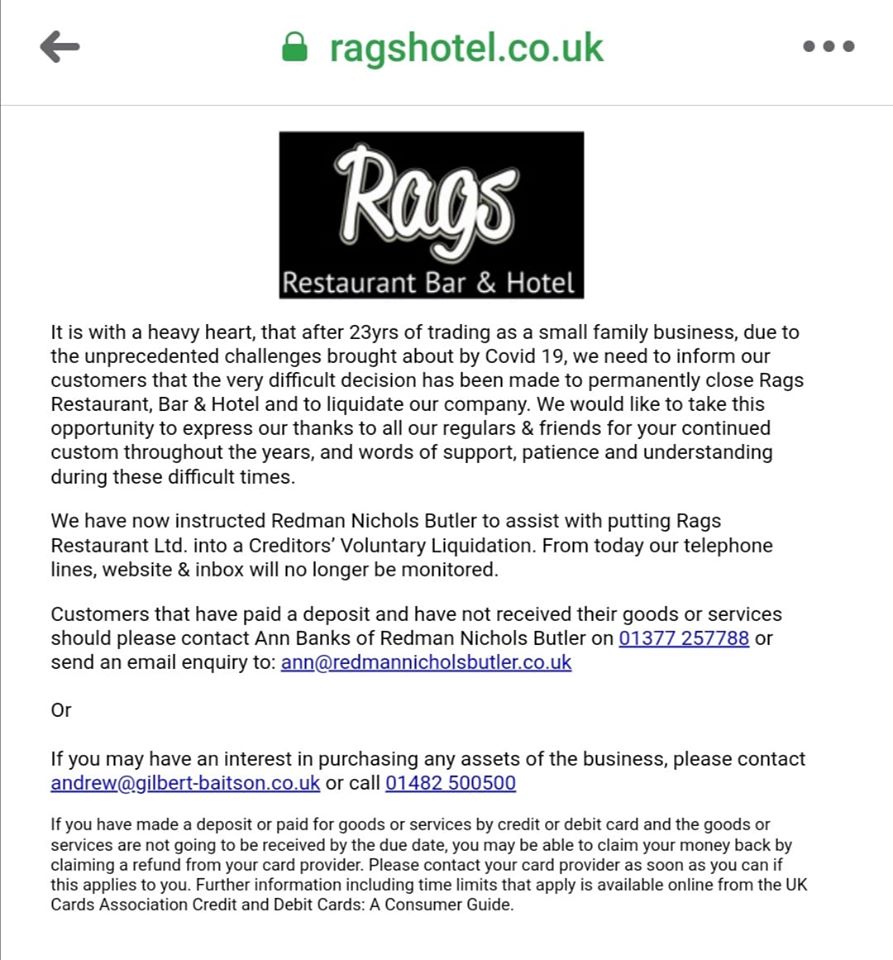 Les and Julie Dyl took the business premises on back in 1996 and have given the Bridlington people a beautiful venue for lots of happy memories. These include the wedding reception of our very own Mayor and Mayoress (Liam & Michelle Dealtry) who were one of the first couples to hold their wedding reception at the Rags Venue.
Julie Dyl has also left this public statment on their Facebook account thanking the local suppliers and all their customers.
"What is proving to be a very emotional and difficult time for us, it is very moving to read the enormity of the supportive comments from everyone especially the staff regarding our heartbreaking decision to not re open at Rags
We started our journey in 1996 taking on a closed restaurant in a town called Bridlington it was from a standing start with not much working equipment to help us get started .
We were told by many that Bridlington was a strange town regarding strangers ( wessies ) coming in and taking over business and we would have a really tough time making it work .
Well 23 year later and this hard to crack town and the people in it became our home our friend and our family all in one.
We have had a rollercoaster of a ride of hard work and emotion happy and sad times during our journey .
We have made so many friends along the way and we always called ourselves the RAGS FAMILY We have had an amazing team of people help make Rags what it has been over the last 23 years and I can truly say that's what we were we laughed together cried together supported each other and worried about each other .
We have had so many lovely messages from all the staff saying Les & I were like second parents to them and we can truly say sometimes it felt like we had 30 children to cope with but we wouldn't have wanted it any other way.
We would like to thank all our lovey customers over the years who have supported us and given us lots of great conversations and fun times helping us celebrate more occasions than we can count. Also our fantastic local suppliers who have gone above and beyond and enabled us to trade seven days a week .
We want to thank from the bottom our hearts our amazing Rags family and want them to know have been so proud watching them grow and being so lucky to have shared in their lives.
Such happy times and memories to treasure and although this is the end for Rags as a business it is not the end for Rags family
its time now for other business to benefit from the caring and talented bunch who we have been so lucky to call ours for the last 23 years.
Its been such a heart breaking decision but Sometimes life as a way of giving you what you need not what you think you want so we feel now is the time to embrace this .
Les & Julie. ❤️"
Yorkshire Coast online and Yorkshire Coast Directory whom Rags have supported over the years would like to add our condolences and wish Les & Julie and the rest of the Staff inc Nick and Natalie Torn who have been long term staff at the venue all the best for the future,